Velvet Dress, Stilettos & Wolfords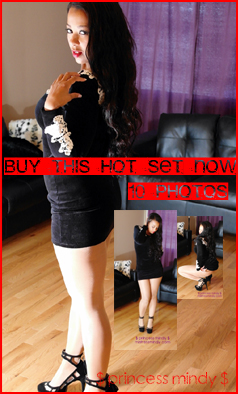 Short Black Velvet Dress, Stilettos and Wolford Nylons
When you see My hot long strong legs in this uber tight, short black velvet dress, these hot high and powerful heels and my Wolford shimmering nylons,
you're going to be hooked instantly and putty in my hands! My body looks so curvy,tall, bratty, powerful and tempting… you desperately want to see that black velvet hugging my body tightly in Hi-Res… you will fall on the floor and become weak and hypnotized by these long legs.
Look how arrogant and spoiled I look… Im totally showing off in these pics and you can tell by the looks on my face that I really think Im "something else" But I am something else… just look at Me!  you love it and the fact that Im THIS into myself is one of your fav things!
Purchase these hot photos this instant and worship your biracial bombshell greedy homewrecking Princess now!
Promo Pricing $10.00 (to hook new fresh meat haha!)
Fetishes: tease, nylons, brat, arrogance, curvy, thick thighs, long legs, tight dress
Similar Content Of Mine You Will LOVE: