Friday, May 10th, 2013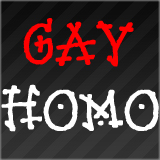 Want to know if you're gay and just HOW gay you are? you NEED to take this gay test 2.0 to find out just how gay you are… This test is 100% accurate and thanks to my perverted yet crafty dick jerking, ass diddling, cum licking and totally gay experiments and tests along with the points issued… you'll not only find out if you're gay but you'll know what kind if gay you are and how gay you are!
Sure you'll have to do dirty gay things to yourself, be violated and even suffer through my laughing and snide comments as you go but in the end you will know just how gay you are, if you are at all! You will love all my detailed instructions which lead you down a perverted dirty homo adventure!
The Gay Test 2.0 – experience the best gay test you'll ever take in your life… your dick, ass and mouth will thank you for this!
$15.00
Possible Fetishes: wacking off, gay porn, cum eating, ass play, sucking and total gay activities
This test is just like a gay fun assignment only it comes with results and gives you a clear answer to your sexuality… aaand maybe a little sneaky humiliation for my entertainment!