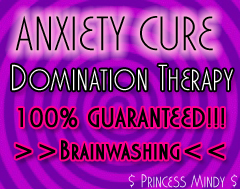 ANXIETY CURE! **REAL** Domination Therapy! Trade your anxiety 4 an ADDICTION!
If you suffer from anxiety, you NEED this MP3 as it WILL CURE your anxiety. you WILL be FREE 100% of anxiety while listening to this – watch how I use my cute teasing voice with power, and manipulate your mind. Its BRAINWASHING, with Domination Therapy and Deviant Magic!!!
— GUARANTEED!!! — This WILL work, all you have to do is listen… this BRAINWASHING MP3 is designed for slaves with anxiety… Watch the Deviant Doctor Mindy, BRAINWASH your anxiety right away!!! *trade your anxiety for an addiction NOW* it feels SO MUCH better!
8 Minutes Long $20.00
Similar Content Of Mine You Will LOVE:
Leave a Reply