Controlled by My hot cleavage
Clip Description: My bouncy hot cleavage owns you and there's nothing you can do about it other than cave and give in to my perfect juicy cleavage.
Im such a hot Princess and this tight pink dress shows off My Feminine shape which you are totally addicted to. When I squeeze My cleavage together in your face, which I do a lot, you start getting brainwashed by the things I say… but its all true, you can't resist My tits, My cleavage does control you, and you must obey Princess Mindy.
You chat and stroke, and chant and stroke while I play with My cleavage and give you things to repeat and become mind fucked with.
Drool over My cleavage while you worship, stroke, chant, and get programmed to obey, and pay!
…you need this clip, you cannot resist the images of My cleavage, and you need this clip now!
9 minutes long / $24.99 /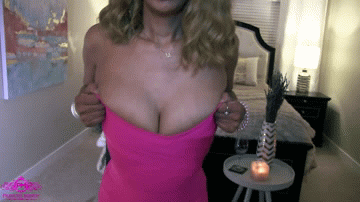 Similar Content Of Mine You Will LOVE: