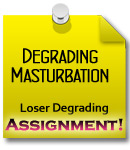 Degrading Assignment #2 
In this sick assignment – I will have you do nasty things and jerk off in humiliating ways that you will be ashamed of yourself! You deserve this LOSER and your going to do this because your such a little idiot who loves this too.
Watch how I exploit you and make you do jerk your unwanted penis off in ways that you should be ashamed of, but just watch and see how my twisted mind will make your ugly cock throb.
Price: $20.00
Fetishes:  Shameful Masturbation | Humiliation | Degrading 
Similar Content Of Mine You Will LOVE:
Leave a Reply