Panty Worship Pics
3 Bratty Butt & Panty Worship Pics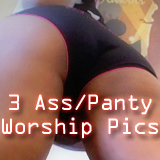 Adore my perfect ass and worship my panties and drool over the idea of you groveling on your hands and knee's kissing my ass.
1 pic of me in sunglasses and poka-dot panties, pig-tails and looking snobby as ever…
1 CAPTIONED PICTURE of the back of me flipping you off while wearing panties and a shirt…
1 POV View of you gazing gazing up my legs and my ass in black panties and well pink socks on! Drool away!
Similar Content Of Mine You Will LOVE: