1 Year slave Plan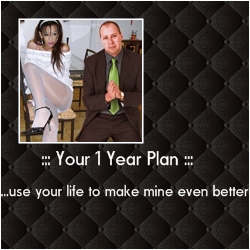 This one year plan tells you exactly where to go and how to get there! I have objectives for you to hit over the year, like actual goals but more than that I even list what you have to do, will have to do, should do and ideas of things you should do to yourself and life in order to make the goals I have for you happen. I totally utilitarian-ize your life, you have functions and they all revolve around lifting me up…
Your cock and horniness will be used against you… reprogramming your mind and training you to be a robotic pervert who gets horny over following my orders. I even manipulate your dick over the year to make in drool when youre trying to achieve your Mindy made goals… and by the way ALL of these goals are about advancing My life, this is real slavery and you are totally used for all you have in this 1 Year Plan!
Its been way too long since you have achieved any goal, do this now and watch how I take advantage of your fetishes and penis while using you and turning you into a personal stepping stone!
over the next year you'll follow this detailed action plan and become a hornier, more perverted and even more compulsive servant while through it all making me more powerful!
$7.99
Similar Stuff Of Mine You'll Like: