3 Day perv wank task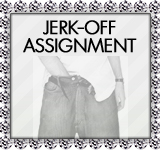 3 Day Total Control pervert worship wank'n love assignment
Just as the name of the assignment states – this is a high quality, detailed 3 days action jam packed pervert worship assignment! This is a step by step and very detailed assignment which will have you under my control and totally put to worship and pervert service for 3 whole days… Oh yeah servant, Im talking from the time you wake up to the time you go to bed, for 3 days… you'll be busy doing something thats a fetish act of servitude.
The assignment is broken up into 3 days and on the 3rd day, 3 parts… Theres days of fun light playful humiliation, edging and general slave stuff, a day of total tease and punishment and another day of Pure Mindy worship which includes MICRO-MINDY worship orders and a sexy free photo to go along with it.
Face it, you need me, you need this assignment to give you life, make you feel exploited and used as you NEED… you need to have Me grab your little balls and order you around, perv you out, and even force you to cum and do things with it!
Yes this sounds soo fun and it is, but dont mistake this for some wannabe domination hidden behind jerk off stuff – sugar, muffin-idiot – THIS is serious hot control… it has a little of everything in thsi too and when you're done you will experience that feeling you DESPERATLY need and thats that feeling you get after you've really been made a slave and had had a Hot Domme like me violate your mind, wallet and cock for DAYS!
woohoo have fun pervs, addicts and losers! – fetishes: total control, joi, tease, cbt,penis abuse,humiliation,ass play, Liquor fun, multi fetishes!
$15.99 
Similar Content Of Mine You Will LOVE: