50 Shades Of GAY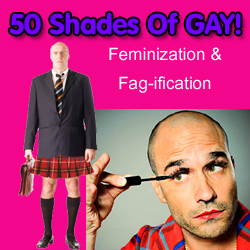 This amazing gradual feminization & fagification training assigning is a 5 part training or assignment that will change you into a REAL Actual FEMME FAG!
Its important you go from chapter 1 to 5 because there is a HOT detailed step by step GAY MAKING & Feminization process that will play off the last training chapter… you will be step by step, in detail transformed and trained from a weirdo freak in the closet, that you are now – to a manicured fag with everything from the gay lingo, streched out asshole or man pussy, to the groomed appearance…
NOTHING is left out – by the time you're half way through this people will start to wonder about you – and by the time you're done EVERYONE will know you're gay and you will have had real actual cock too!!!
you're taught gay flirting, femme grooming, homo language and lingo, fag body language, where to find cock discreetly, where to mingle with horny gays, how to get your ass ready, how to implement your gay life with your everyday life in ways that wont get you caught BUT will get real gays to notice you and SO MUCH MORE!!!
Start from chapter 1 and move upwards… this is a REAL feminization and fag training, reprogram package and not some cheap skanky assignment… this is for the REAL cock lovers, sissies and Femme slaves! BUY THEM ALL NOW – your NEW LIFE is a few clicks away!
BUY CHAPTER: One – Two – Three – Four – Five | OR Free In My Members Area!
Minimalist, condensed descriptions
Chapter one: The starting steps – warming up and getting ready… Fun & Light stuff
Chapter two:  Its man love time… in this chapter people will start to wonder about you as well!
Chapter three: The half way point – the door of your gay-ness is being shoved open and obvious gay boy alterations are made to you & some hard gay work starts
Chapter four: Its getting even HOTTER now… some shocking gay changes are demanded & some scandalous gay sexual fun starts
Chapter five: This is when you use ALL of the other chapters and as an advanced, shockingly REAL and semi impress feminized and informed slut fag – you get some of the HOTTEST gay experiences you have only ever DREAMED ABOUT! In this chapter you will see how you have actually been transformed, better or worse haha and see how you've been turned GAY! Say good bye to your cock cherry too! This amazing gradual feminization & fagification training assigning is a 5 part training or assignment that will change you into a REAL Actual FEMME FAG!)))
Similar Stuff Of Mine You'll Like: