7 Ways to tell ppl ur gay
7 Ways To tell or Hint To People That You Are GAY!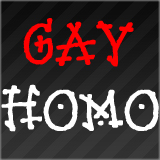 So you are in the closet about being a homo cock lover… well Iv created 7 Gay-tastic humiliating & practical ways to start showing people that you're a homo! These 7 ways to hint & tell people are awesome ways that WONT be over looked yet simple enough you can do with-out coming right out and saying it. These will ease you into it, and will be sure ways to slowly let everyone kno you are a faggot!
Price: $11.00
Buy Now: Click Here
Similar Stuff Of Mine You'll Like: