Cum Lunch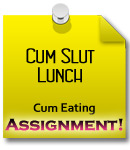 A Slut Bitch Cum Lunch Assignment – Yum Yum Loser!
This assignment will have you discreetly BUT pervertedly serving me AT YOUR JOB. Nobody will ever know… but come lunch time when you see what Iv made you take to work to eat – you wont forget your on a perverted little loser assignment for your Princess. The details in this assignment will turn you into a slutty
cum whore. If your already a dirty cum slut, well this will hit your spot.
Best of off slut slave – your going to be out in public serving me whore style and nobody will know! hehehe.
Price: $15.00
Fetishes: Cum Eating | Humiliation masturbation
Similar Stuff Of Mine You'll Like: