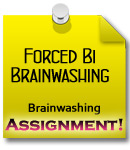 Forced Bi & Mind Conditioning
While I force you in a new way to love cock, This 2 page assignment will also REPROGRAM you to get off on dick through various methods. You WILL cum, and you WILL like what I say! Watch me train you into a faggy cock loving dick slut and change your mind into cock craving fairy!
This is all about mind control and reprograming you with cock and to transform your pea-brain at the same time to want only dick.
Price: $15.00
Fetishes:  Reprograming | Forced Bi | Allowed Cumming
Similar Content Of Mine You Will LOVE:
Leave a Reply