GROSS & degrading sick assignment 4 LOSERS by Mindys Minion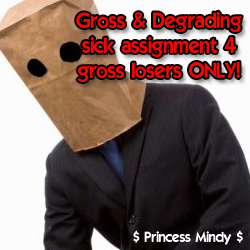 This assignment is gross and in my opinion is made and suited ONLY for those into GROSS degradation! ALSO: this assignment was made as an assignment for a slave, by a slave – YES… EXTRA EXCITING! this sick task/assignment is made by one of my slaves… I said make it a good one and this is what he came up with.
Ill just say right now – anyone with any self worth will not do this… if you do this assignment and degrade yourself this way – you're fucking pathetic and very gross! NOT FOR WEAK STOMACHS!
~~ His idea is to make you clean inside and out – use your head, maybe you can guess what this is about – Im not giving it away in the description 🙂 – though his idea is just so extra – this is just over the top gross and loserness!
$20
Similar Stuff Of Mine You'll Like: