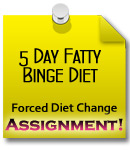 5 Day Binge Diet Assignment – The BIGGEST Loser!!!
Watch me transform you into a real life over-stuffed loser. This hell-ish 5 day diet has 3 pages of detailed instructions on what you will eat for the next 5 days. Think you can hack it? Unhealthy binging for princess – turning yourself into a plum pig and ready for me to roast.
Your bad enough as it is but just wait and see how sick I make you feel for my own twisted amusement.
Price: $17.99
Forced Food | Life Control | Fat Slob Slave
Similar Content Of Mine You Will LOVE:
One Response to "Pig Diet"
Scott Says:


I am hesitant about buying this I thought if you maybe allowed me to send one picture after I complete your program. That would give me the desire to fulfill your diet program fully. Would that be okay Princess Mindy?

June 20th, 2014 at 12:47 am
Leave a Reply