weak vulnerable man quiz
Hi slave,
I have a fun and very accurate quiz that I would love for you to take. You see, I love having lots of slaves, it makes me feel powerful and sort of feeds this deviant side to Me. The only problem is some slaves don't make the cut – you know, some slaves are struggling with the fact they are more submissive than not or are hanging on to the idea that maybe one day, just one day maybe they might be an Alpha man… I know, silly right?
Slaves should just go ahead and enjoy themselves even if it is on your knees with my foot in your mouth while I  wink at you and tease you while cleaning your accounts out… how can this happen if you're still fighting with the wannabe man bits left inside you?
How about My good boy slaves who are happy to be totally obedient to Me, sometimes they need me to help them discover who they are and learn about themselves. Of course there are also other good reasons one might need this quiz and if just for fun or curiosity alone by the end of this quiz you are going to learn just how weak and vulnerable to a deceptive sexy vixen like Me who often prances all over the backs of men…
Are you weak and easy to you? A total beta or do you have a few manly fibers in your body?? Take my quiz now and find out how much of a real man you are… or are not! (this is not a clip its a quiz)
$15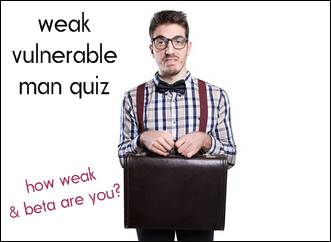 Similar Content Of Mine You Will LOVE: