Katoptronophilia Gay Cum Lick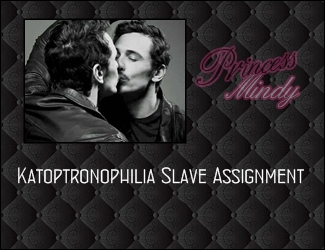 This assignment is going to make eating your own disgusting cum a whole new experience… usually you lick it off the floor like a loser, BUT this time your cum licking/eating experience will be enhanced and magnified!
You'll be made you to jack off to your own reflection with other gay dirty details and specific jack off homo instructions… Then when its time to cum, you will have details on how to do that as well – THEN comes time for you to get on your knees and eat your cum in a way you NEVER have before… This may be more difficult for you to clean up your cum, or maybe it will turn you right back on… I think you may even experience humiliation and more, JUSt from the new way you will be eating your cum and what you will be watching while doing it!
Like eating your own cum like a gross loser after you jack off? – Well try this assignment and choke back these dirty details! Have fun jiz boy!
This is gay cum licking and homo jack off instructions that you have never done or seen before! Experience JOI, CEI, gay jacking off in a new uber gay way… watch how gay you become AND feel after this homo cum licker assignment!
$9.99
Similar Stuff Of Mine You'll Like: