Liquor Fun #1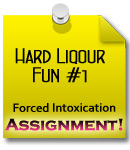 Forced-Intoxication – Hard Liquor Fun #1
From start to finish you will be drinking the way I say, and how much I say… Complete orders to have you serving while you drink your face off and become my lush puppet! 2 pages of Forced Intox orders that will have you drunk on hard liquor!
This is perfect for both boozers and social drinkers… my lush puppy boozers will finally be permitted to enjoy the desturction of binging while being encouraged to just get your self a little stupid on MY orders.
Of course this just makes the way for me to fuck you over… Lets Party subby!
Price: $30.00
Fetishes: Forced Intoxication | Booze Abuse | Liqour Binging 
Similar Stuff Of Mine You'll Like: