you're totally magnetize to Mindy Land, you can't even think about leavings because you're literally trapped in my gravitational sexy energetic field. This is a powerful current that mind fucks you…
you have had your mind played with so many times and been treated to so much manipulation from me that now your mind is total MU$H!!! you adore My calm, Alpha Princess vibes, and how I just decide and proclaim my control and dominance over your life…
I do things to make you mesmerized, and woozy from My entrancing words and visual layers… This clip is perfect for Mindy addicts who love to have their minds played with and love to feel trapped, zombified, and mind fucked!
9 minutes long / $17.99 /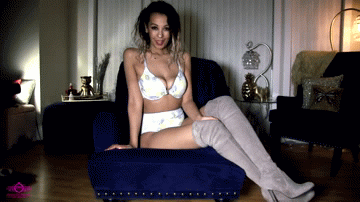 #Black Magic Fantasy, #Finger Snapping, #Goddess Worship, #Manipulatrix Fantasy, #Mental Domination, #Spiritual, #Spiritual Domination, #Sub Training, #Tit Worship, #Total Power Exchange Fantasy,Erotic Magic Fantasy, Mind Fuck
Similar Content Of Mine You Will LOVE: