Rub & Tug ass slavery assignment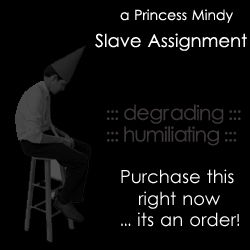 this hot and grimy assignment is going to get you some action…not only will you get some action but you'll be made to be reduced into only getting bitch loser action!!! First you will be lead on a  "hunt" which in itself will provide sexual humiliation… But then you will guaranteed result in you getting sexual humiliation, sexual gratification in a humiliating but REAL way… not only do you get humiliated and get to jerk off and cum in this assignment… but going through the details Iv left inside along with the POSSIBLE REAL ASS you may have in your mouth today… this could very well be your newest and favourite assignment of your life!
This is a JOI, ass worship humiliation assignment that should result in you licking a real live womans ass by the end of the assignment. All you have to do is follow the steps and the humiliating ending will result in you being laughed at and ass worshiping while you have to jerk yourself off!
Sounds to good to be true but its not… just follow the orders, take the humiliation on and in the end you'll look and be a real ass eating jerk off loser!
$15.00
Fetishes: masturbation, JOI, humiliation, ass worship, ass eating/licking
Similar Content Of Mine You Will LOVE: