Kinky Fetish Fortune Wheel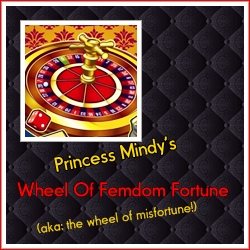 This Wheel Of Fortune (or misfortune) is a random kinky fetish / Femdom spin… the options you have to land on, which you MUST do, are either entertaining for me, hard for you, gay, or serve me in some way… Many fetishes are used and some are fun while others will be more for dirty losers and may be sexually hard for others haha!
You'll spin again and again hoping to land o jack off and cum, but theres a chance you may end up doing something else… HOW many spins will you spin to get that cum and what will you have to spend or do before that lucky cum option is landed on???
Sure you may get used buying and jerking, have a hard time beating off to gay or midget porn, or even have fun but the main thing to remember is – what ever the WOF spinner lands on, you HAVE to do it!!!
Feel free to spin as many times as you like too, but you have to do each one! Theres 12 possible kinky or sexually degrading or hot and exciting jerk off and cum options which you may land on.
Take a spin on the kinky wheel! Fetishes: CEI, JOI, Sexual, Findom, Worshiping, Ass Kissing/Flattery
$5
Similar Content Of Mine You Will LOVE: