Russian Roulette Blackmail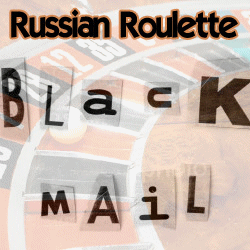 This is actually a very simple and light-weight, BUT very risky little form…
Unlike my typical balls to the wall blackmail forms and extraction tools… This is a simple little, fair game of Russian Roulette… I only ask a handful of basic questions… only a little fraction of whats usually asked…
THIS way gives you a fair chance to get all your ducks in a row, hide what you can… and give me SOME info – not quite enough to really make sure the blackmail happens… BUT just enough that I MIGHT, just maybe, MIGHT have the chance to catch you in my blackmail web…
This is PERFECT for those who want to experience a little bit of blackmail, but always too pussy to go for the whole thing… Fair Is fair – you only have to cough up the basics… Sure I asked the "right" basics, but this… is more about SUSPENSE… will I find you? will you get caught?
This is Russian Roulette Blackmail… Its a gamble for Me too – I might be wasting my time, checking out your info… BUT… I might catch you!
who wins? buy and see who has the upper hand… 50 / 50 chance you're just going to have cheap HOT thrills… and of course, you might end up my little bitch!

$17.99
Russian Roulette BLACKMAIL – 50 / 50 chance you will escape unmarked… 50% chance Ill wring your balls out DRY!
Similar Stuff Of Mine You'll Like: