White Collar gay Boy Fun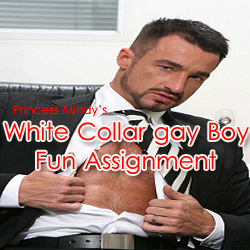 This gay humiliation & EXCITING homo assignment is for the white collar gay slaves, as This assignment is very unique,
different and has slightly polished or at least professional feel to it.
Yes you're still getting humiliated, but just differently – THIS way is more subtle and possibly humiliating in a deeper way though. This gay fun and gay humiliation assignment is a SUPER ASSIGNMENT as completing this assignment successfully can roll over into many many many more gay hot experiences – of course you have to buy it to know more & what I mean!
This is fun, and will require you to go out in public, but even though you will be challenged and people are probably all going to know you're a fruit loop… but This white collar style assignment offers a much classier and subtle form of humiliation and servitude. you could easily do this assignment and not get busted by someone you know, YET be obviously gay and humiliated at the right time!
AND WAIT THERES MORE HOMO – I through an interesting last step in this assignment that may very well actually result in cock being in your mouth shortly after!
This is HOMO-RIFIC Fun 4 white collar gay/bi slaves!
$8.99
Similar Stuff Of Mine You'll Like: