10 bad ideas to make you weaker
Want to take your idiocy to the next level? Want to be more weak, more dumb and even become totally fucked up and locked into a perverted never ending state of slavery? I can help make it happen!!!!
These are 10 terrible and very hot and exciting bad ideas that will make you weak and unable to resist being led down the expensive dick jacking loser path… If you implement some of these ideas, you will be FUCKED… if you do ALL of these – life as you know it will be OVER… you will only be a pathetic idiot moron slave whose only ability in life is to be abused!!!!
These ideas use your mind, dick and subconscious methods to make you weak and dumb! This is the perfect tool to help give you that little push you need to be the dumb loser you know you want to be!
$10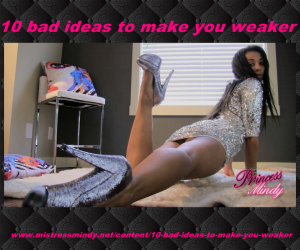 Fetishes: a variety of fetishes included in a full page of deviant slave training/assignment/bratty ideas
Similar Content Of Mine You Will LOVE: