10 rules 4 sissies to live by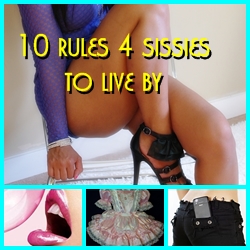 These sissy/femme rules are Mindyfication Femme Training Tips which you should immediately stop what you're doing and change and become retrained and programmed into behaving My way!
These are random and in no particular order – they are all equally important… the big ones for obvious reasons and all the little things add up and make up part of your demeanor and mannerisms – so take ALL My Mindyfication training seriously… these 10 tips and every other piece of hot sexy literature I release! You will learn AMAZING detailed tips that will TRANSFORM you from an old-school stupid looking idiot in women's clothes into an ACTUAL REAL COOL Femme Sissy… Adopting MY kind of sissy / femme tips will result in you being a real femme, having a unique sissy personality and being part of My clique… these are very important tips and literature any sissy and future mini Mindy Must Read!
Become a BETTER FEMME/Sissy/Mini Mindy Instantly with 10 detailed orders with bossy explanations!
$6.99
Similar Content Of Mine You Will LOVE: