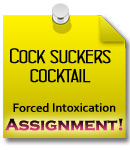 Cock Sucker Slaves Cocktail – Forced Bi Drink
This is for the cock suckers and cum sluts! Forced intoxication mixed with making you SUCK SUCK SUCK to dick & booze in a CRAZY way that will make your fag & intoxication fantasies blow up like never before.
Its exactly as it sounds, a devilish Forced Intoxication drink, mixed with some cock sucking fetish to keep you dumb fucks drunk and faggy. So this is liquor & sucking for booze bitches.
Price: $15.00
Fetishes: Forced Intoxication | Booze Abuse | Humiliation Liquor Drink
Similar Content Of Mine You Will LOVE:
Leave a Reply