Degrading Public Cumer Loser
Hi pervert!
Its time to degrade yourself for my entertainment again. Good news, Ive come up with something nice and gross for you!
This is going to be a humiliating, risky and super degrading jerk off and cum public assignment… this means you'll be wanking and cuming IN PUBLIC with the risk of getting caught, being humiliated and just the mere act of following these orders is degrading and shameful enough – much less you're going to cum multiples times doing this.
Serious jack off loser perverts ONLY!
There will be 5 different jerk off and cum orders and 4 of those will be in public but ALL are DEGRADING and pathetic! So, you will be cumming 5 times and each time you cum gets you more and more disgusting and shameful… I cant imagine who would actually do all this, because its just WRONG! I guess that makes this degrading public cum jack off assignment perfect for you since you are a gross loser after all!
Fetishes: Cum eating instructions, jerk off instructions, public humiliation, Mindy Worship, Slave Assignment
$9.99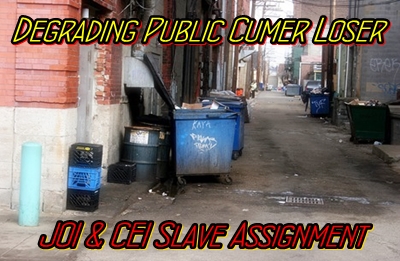 Similar Stuff Of Mine You'll Like: