Express Humiliation Homo Challenge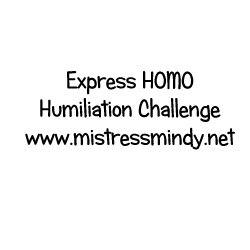 this humiliation challenge is for the homo slaves who want to have a little fun and be humiliated
while taking a challenge that will tell you allot about yourself as well possibly get your ass kicked and maybe even get your ass laid!!!
Okay slaves… this isn't about getting your ass kicked or getting you laid… this is actually all about having a good gay time and as a result of doing this gay challenge you will surely end up highly humiliated and just how gay you are will also be revealed… because if you do all of this it will mean you're a real full fledged gay boy!
ALL, and I mean ALL of this must be done with in 5 days to get the full Pass and bragging rights of completing this Princess Mindy homo challenge.
I give you a list of many many humiliating, hot, stupid and uber gay things to do… challenges. You must do them all and do them with pleasure because this is a HUGE privilege and thrill for you… to be on a Princess Mindy assignment… and this one is a super homo challenge… only serious idiots and fags would do all of THIS! (Public, gay & at home humiliation)
$21.00
Similar Content Of Mine You Will LOVE: