Deviant Idle Hands Assignment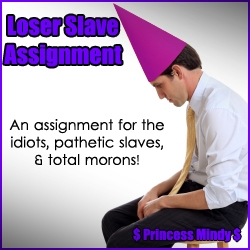 Idle Hands Are MY Playground… and I want you to be My devils hands. This bratty assignment is going to be super fun, VERY HOT and very much a trouble making bratty event!!!
If you were ever lucky enough (and you never will be) to have me in your house, you better believe I would be the biggest hell raising trouble maker! Especially if you're one of the LOSER LOSER slaves… oh yeah Id treat you worse than the other slaves… I would be cruel and break any awards you had laying out, unplug your fridge so all your food goes bad, put on a pair of stiletto heels and then kick little stiletto heel holes in to the walls hahaha Tie you up in the corner with your wallet hanging out of your mouth and make you watch me dance and prance around in your house and snoop in all your stuff… "Oh this is a nice coin collection… Mine!" hahaha!
$8.99 
Anyway, since Im not there (and dont ever want to be nor will I be – you're not worthy), but you are there… well this brings to life my new sexy bratty assignment… your lustful, idle, loser hands are, you're going to do all the bratty trouble making For Me!
SO Iv composed a very sexy and beautiful list, all of things that just popped in my head as I was thinking of what I would do if I ever was in my slaves house… I was picturing all your roommates, or wife or gf, or who-ever… was gone and you finally had the house to yourself. You dont know for how long but that doesnt matter what really matters is… Im in town and we just got off a NiteFlirt phone call where you told me you were alone for once & I showed up! The ONLY thing you could do is stand there speechless and totally instantly weak and helpless…
I barge right in, tie you to something and make you watch me do as I please!
Become my hands and do my trouble making , shit disturbing sexy trouble in your own life FOR Me! hahaha Say hello to sore balls and some bratty trouble!
$8.99
How much trouble will this get you in? How horny and hard will you get from this and are you actually a big enough moron to do this ALL? Who cares – you're going to have a great idiot time!
Similar Stuff Of Mine You'll Like: