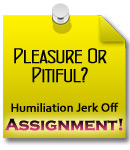 Pleasure or Pitiful – HARSHLY  HUMILIATING!!!
Yes, you'll be jerking your tiny dink off allot in this assignment BUT it'll be intensely humiliating each and every time you do. PLUS cumming is just as humiliating. You get points each time you cum – BUT can you cum this humiliating?
This is any little ass-wipes dream come true because not only do you get humiliated to no end you get to blow your gross man poison too. Oh but this Bratty Princess is going to make you pay with your self-esteem each and every time you jerk off, and even more when you cum!
Price: $20.00
Fetishes: Dick Jerking Humiliation | Humiliation | Multiple Cum Permissions
Similar Content Of Mine You Will LOVE:
Leave a Reply