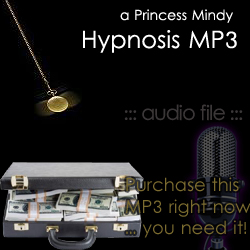 This highly powerful and very intoxicating hypnosis mp3 is such a teasing, sexy and greedy piece of magic.
My voice is so luring, playful and slightly devious… it plays with words, tricks your mind and leads you into total weakness and has you horny, light headed and totally brainwashed. Sexy soft and very obvious underhanded seduction and manipulation takes place in this hypno MP3, which has you agreeing to the suggestions and triggers I leave in your mind.
You will fall in love with me and lose all control of yourself and especially your mind… Hear me hypno-toy and tease you into real love… Which I then brainwash you into believing your love can only be shown in dollars… and send you deeper into my intoxicating love hole where you are further toyed with. Watch how I cant actually physically make you feel light-headed and at the same time make your stupid dink tingle with a new sensation…
This is a highly powerful hypnosis MP3 which will make you fall in love with me and be unable to stop showing me your love in dollars! This is pure financial domination with use of manipulation and powerful hypnosis… You wont be able to resist my voice or words!
Pro quality/very quiet seductive hypnotic music in the bg
$15
Or Free in Mymembers area! Click here!
Similar Content Of Mine You Will LOVE:
Leave a Reply