The Wheel of (mis)Fortune!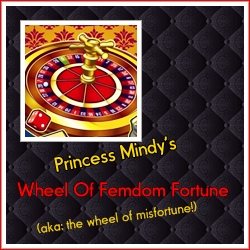 Do you enjoy having Me control your dick? Want me to be the boss of what happens to your dick and balls for the next few minutes? Well step right up and have a spin…a spin of Mindys wheel of fortune (WOF) could result in you getting some dick release, jacking off OR some ball abuse.
You get one spin on the wheel, you'll watch the fate of your penis spin for 5 seconds… then it slowly ticks down and lands on either a loser way to jack off and cum OR some CBT type ball/dick abuse instructions!
This is perfect for idiots who want a quick cum or loser task that will let you do what you do best – play with your dick. Its either going to feel good, or hurt… Take a spin now!
$7.77 (perfectly priced… lucky 7s!)
Similar Content Of Mine You Will LOVE:
Leave a Reply