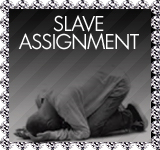 4 A Good Time Call…(Degrading jerk off & sexual slavery assignment)
This action packed and high thrill pig slave assignment will result in 2 things. 1) you being sexually used by possibly multiple people and 2) you being utterly degraded sexually just upon doing this assignment!
You'll be sent out in public to do a variety of orders… near the end of this humiliating assignment I up the orders even more and make you defile, degrade and belittle yourself in maybe the most disgusting sexual acts you've ever done hahaha but it doesn't end there… To finish the assignment you'll use the previous step to assist you in the most vile jerk off and cum orders you've ever done before!
Yes this is perverted, gross and has awrsome degrading jack off and cum orders BUT more than that – you'll be setting yourself up the whole time to be used sexually by strangers too!
Buy now and get all the dirty details!
$6.99
Fetishes:jack off, cum, degrading, public, sexual slavery
Similar Content Of Mine You Will LOVE:
Leave a Reply