Are You A Bad Fuck Questionnaire 2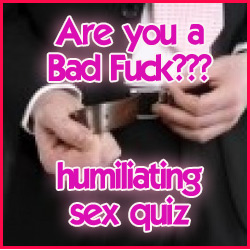 you are asked 27 strategic questions which some are humiliating, some embarrassing and some you wont be proud of…
ALL which will give you accurate and 100% real answer if you are a bad fuck or not!
Get humiliated and set up for disappoint, AND THEN have me use my questions and your honesty to tell you just how bad you suck in bed!
*** Fun, detailed & semi-interactive! <<<Nothing to download – this runs off a cool script I bought which allows you to use a password and link which are inside!>>> Instant Access / Instant humiliation & fun!

$15.99
Similar Stuff Of Mine You'll Like: