Fatty Jack Off Training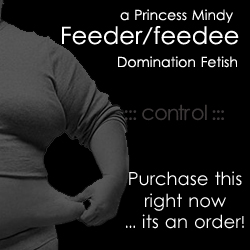 This is a very detailed 3 day, slightly fucked up, yet highly pleasurable and challenging food binge style assignment. The idea is to make you my own personally fat blimp slave. I merge binging on some of the most unhealthy and yummy food with edging and wanking and cuming together in a very specific way! Which ultimately not only makes you get fat but also starts to recondition and reprogram your mind to associate eating, getting fat and perverted bad food habbits as a good pleasureable thing in your mind.
Watch how your stomach will be stretched to the limit and how you wont even care that Iv got you pumped up on sugar and fat because, dont forget, you'll be wanking on my orders the whole time… You'll be beating your slave meat for 3 days… Theres even FORCED cumming included because yes at one point you'll be fresh out of cum but bossed around into doing it… while other times I leave you aching for release but all you can do is eat and edge – Iv said enough already – for the FULL detailed instructions which are creative, yummy and challenging… buy this now, fat ass!
Theres a few other fetishes that are hit in here but, Im keeping those a surprise!
$13.99
Similar Stuff Of Mine You'll Like: