Katoptronophilia Humiliation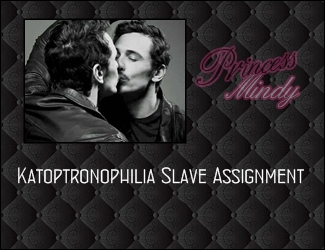 If you like humiliation, JOI, masturbating and new experiences then you will love this unique masturbation humiliation assignment!
Obviously you will be jerking off during this assignment but Iv made it extra intense and added a new element to help make you feel like the perverted freak hat you are! I love to humiliate you and make you more stupid than you already are… that way you think less and spend much more! This strange and maybe challenging beat off assignment will have you masturbating and cumming while obeying the oddest, deviant and humiliating demand!
Treat yourself to My deviant logic of this assignment with twisted writings depicting and leading you down a pleasurable dick jacking downward spiral to the kinkiest idiot threads of My wicked web…. My mind, the assignment and ability to convey my diabolical demotions of your-self, through mindless and stimulating idiocies through a new fetish you WILL fall for, are all reasons to buy and treasure…
a visual aide of the kind which will at the same time bring pleasure, feelings of humiliation, idiocy and ultimately lead to you being addicted to wacking to this new fetish… feels good, feels stupid and commands you to become more hooked and addicted!
I allow you to cum and when you cum THIS way, you will SEE and feel it like you never have before!
By the time you're done this assignment, you're going to see just how big of a pervert idiot you really are! 😉
$15.00
Similar Content Of Mine You Will LOVE: