Loser Make-out Points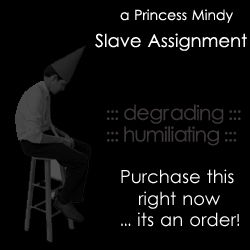 This disgusting and very degrading assignment is for the super freaks, super losers, and really gross pigs who enjoy being humiliated, degraded and exploited! 5 of the most disgusting, vile and perverted orders you have probably ever received. I shouldnt even deal with the kind of losers who would do THIS but on the other hand I am a sneaky devil and darkly creative and of course Im going to profit from all of you sick and dirty losers so why not… Heres a sick and perverted assignment for the pigs who enjoy assignments like my "50 degrading kisses" assignment… this is similar but 10x more  humiliating, degrading and gross!
Get teased with dirty things and made to jerk off with humiliating things… your brain will become fucked up and over when you hit the 5th and final order inside which makes you jerk off and cum in a really fucked up way! Plus theres a special twist which makes the humiliation and grossness extra pathetic. you'll be pushed to your limits and Warning, only majour losers and freaks should buy this!!!
$7.00
Similar Stuff Of Mine You'll Like: