INHALE RED BLACK POPPERS BUZZ GAME ($14.99)
A fun and very woozy inhale game that makes you so woozy with 40 minutes of buzzy Femdom card fun!
Spend the next at least 40 minutes following My Femdom card game instructions that has you so weak from inhaling, flush, buzzy, and stroking while you play until all your favourite fetishes are used against in in the fun way..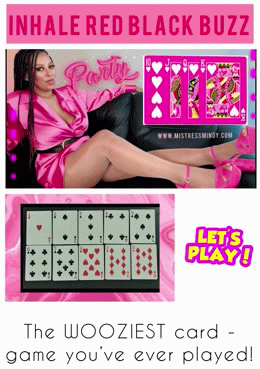 Note: this is a task, or assignment as I usually do in text but made into a fun femdom video version so that regardless of your device, you will be able to view this content. While I am talking through-out the video, I am not on the video as this is a inhale card game..
When watching this fun clip, you will learn the buzzy details on how to play and get guidance to play… Pause the video and read over what you like and or follow along with my talking..
For 40 woozy minutes, you will be having Femdom fun in Mindy Land Game Room.. with edging, Goddess worship, leg, breasts, and other fetishes!

$14.99