Wife/Gf Sex Fortune Wheel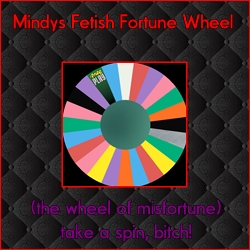 This evolved Fortune Wheel game is even better and more exciting than my first few Fortune Wheel games… This one involves your wife or gf too and gives directions on how to complete the sexual tasks!
You WILL be exploited, you WILL be terribly teased, put in highly sexually uncomfortable situations and used as one piggy little dirty perv sex toy! Your wife/gf isnt going to know what happened to you, what hit her or how you turned into THIS kind of horny dirty pig! Little will she know her experiences are really you on a job, task and merely a Princess game – She shouldnt care, she should thank me! In fact I bet she will want to thank me!(maybe even with her wallet!)
You however hahaha are going to watch the fate of your ass, mouth,tongue, dick, blue balls, pride and dignity spin around and around while you await the spinner to stop spinning and show you the sex act you must do!!! Most options are dirty and perverted, some are just gross, others if you're a pig you may actually like… and of course some options you'll be sweating bullets in hopes the Fortune Wheel doesn't land on THAT one!!!
This is not so much a "home-wrecking" sex game so much as a "Deviant Home-Control or relationship-control" sex game… All centered around my sick and twisted sense of humour!
Pussy licking and finger fucking while she jacks you off? hahah Not Quite but YOU WISH! –  The sexual tasks are going to be MUCH more sick and Mindy entertaining… do it now and get sexually exploited now!
(This is detailed with lots of sexual orders and possibilities!)
$17
… Im not sure this is so much as home-wrecking as it it home or relationship control. It will absolutely promote sexual occurrences, yet these are all acts of servitude to me. Your wife or gf should either want to thank me or if she knew everything you've been doing was on my orders hahaha she's going to be a little upset all that new weird intimacy was a sham, just an act of servitude to another girl… a hot one at that! Anyway – I guess this is a little homewrecker, relationship control and sexual tasks! Enjoy freaks!
Similar Stuff Of Mine You'll Like: