10 ways to go fuck yourself 2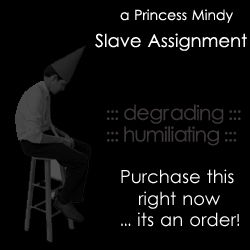 Ill give you fair warning, this private & public assignment should only be done if you're a total idiot. In fact, maybe even then, it shouldn't be done because not only is this highly degrading, but some parts are outright humiliating and will make you a bigger idiot than you are… and a huge perv too!
With that said, this is a fun and challenging pervert assignment which is pretty simple with simple instructions and maximum loser effect! Simple as in, all you need is your dick, a bit of balls and lots of stupidity… the stupidity and dick you have… so do you think you're up to mustering up the balls to try and do all 10 of these different ways you can go fuck yourself?
Some are fun & risky, some dumb & disgusting, some exciting and some even down right loser-ish… Take part in an entertaining loser assignment and sacrifice your weenie and possibly much more all for your servitude to Me!
Fucking yourself in MANY ways… literally, your mind and if you get caught, well you could get fucked over! 🙂
To add to the craziness, you also have the chance for this to become interactive with me and be exposed with all your perversions on my blog!!!
Fetishes: degrading jerk off, public jerking, public bathroom play, ass invasion, degrading eating, ass play, findom, humiliating staining and messy pervert play, humiliation, cum instructions, ice play and more!
$5.00
Similar Stuff Of Mine You'll Like: