Hide and Go Fuck Yourself Assignment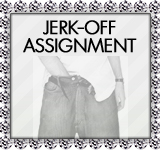 This one day assignment will have you jerking off and humiliated by jumping through degrading and pathetic hoops. Your dick will be sore from the wanking, self-esteem chopped at, and the feeling of idiocy running through you!!!
Humiliation & Masturbation Assignment for the slaves who want to masturbate to my humiliating and degrading order… because after all… you dont even own your own worthless dick, and you dont deserve to experience any pleasure unless it comes with being humiliated and doing it the way I say!
Price: $18.00
JOI (Jerk Off Instructions) | Humiliation | Slave Assignment