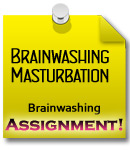 Evil Brain washing Jerk Off – Intense Jerking Off
I will have you jerking off in a way you probably have never done before. Almost brain washing and subliminally cementing your mind to enjoying humiliation more than ever. this mental jerk off assignment will have you in dark & exciting states that will both humiliate you and train your brain to only get your worthless prick hard with humiliation.
Of course this will only make you an even bigger loser than you already are!
Price: $17.00
Fetishes:  Brainwashing Masturbation| Humiliation | Mind Fuck