Gay Outing Roulette Game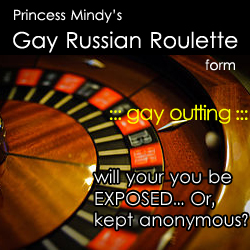 Doing this AWESOME, super risky yet deviant fun and semi safe "Gay Outing Roulette Game" is the perfect way to have the rush and thrill of being exposed, with a good
chance you wont be… ONLY this roulette gay homo outing will give you exactly what you've been looking for and exactly what you need.
you'll be slightly teased with my gay questions and one cock hardening easy demand which will make you face just how gay you REALLY are… disclose a number of personal things to me, secrets, REAL info and a few other things. Not too much but a little – The idea is you give me only SOME of the information I would want and need to expose you and have my fun in what ever way I wanted – YET a lot of the info I need and want is NOT asked, which means Myself as well you have a 50/50 chance at being the winner!!!
Will you get exposed? will this turn into a huge gay session? will you end up humiliated and mocked? Or will you get the THRILL of a lifetime while your gay-ness stays private and you dont get exposed? Will you discover that you're More Gay than you even thought?!?! Will I some how MAKE you more gay and end up "dicking you around"? hahaha
*** Sit back and twiddle those gay thumbs bitch because this is an experience which will surely give you the hottest gay experience with all the idiot feelings you love best… like suspense, a Princess doing as she pleases and maybe even a bit of gay exposure fear… all at the hands of a hot Princess who may or may not track you down and EXPOSE YOU!
$20.00
Iv only made the cost of this $20.00 as all my Roulette forms are easy and more than fun for me to do while possibly causing a little ruckus  in your life! Usually interaction like this would cost $100.00 just to start! However considering this is Roulette and I dont have to talk to your boring ass and I may get some hilarious content out of you for my blog during your gay outing… I make more giving this away for an inexpensive price! haha So please do treat yourself to this "heck of a deal"… bite the bait homo, you know you cant resist 🙂
Fair warning… if you get caught.. Im doing what ever the F I want to out you for My personal fun and giggles! 😈
Similar Stuff Of Mine You'll Like: